Our tours
We only work with very SMALL GROUPS, with maximum 6 participants and our activities are mainly outdoors, with very low risk, even though we'll follow these practices to mitigate any chance of contagion.
Our team
You and other participants
Our vehicles
During the hike
'Clean & Safe' Labels
As an option for a second day in Rio, for those who already visited the main attractions, the Rio Eco Secrets, our 'Eco Citytour Rio', is a great option. Combining all the main 'green' and nature areas of the city, visiting National Parks and protected areas that are off-the-beaten-track and not featured in the regular tours.
You'll see different ecosystems like rainforest, waterfalls, secluded beaches, lagoons, 'restingas' and mangroove with caimans, capybaras and summits with magnificent views.
For those who love nature but are not willing to hike and trek, this is the perfect tour. Within 1 day, our team will take you to visit Rio, South, North, and West, picking the best nature spots.
On each of one of the parks, there will a bit of walking (but NOT hiking in trails) to get to know and experience the lush of a variety of ecosystems and maybe see some wildlife.
1) Penhasco Dois Irmãos Park, with a great view to Ipanema and Leblon beach
2) Chinese View summit (Tijuca Forest National Park)
3) Taunay Waterfall (Tijuca Forest National Park)
4) Canoas Summit (Tijuca Forest National Park)
[BREAK FOR LUNCH/SNACKS IN A RESTAURANT] (not included)
5 ) Chico Mendes Lagoon Park, where is possible to see caimans and capibaras
6) Prainha Beach (protected area), a little beach, surfer's preferred spot, surrounded by mountains and rainforest
7) Grumari Beach (protected area), a secluded and protected beach area, where participants are invited to wade in the water or take a dip.
1) Start time shown on the calendar below is an ESTIMATION. Pick up time depends on your meeting point. We'll email you on the night before (08:10pm) to inform exact pick-up time for your meeting point.
2) All participants must be aware the ian eco citytour Rio it's walking tour outdoors  (approx. 15 min. walk on each of the 7 attractions)
3) Total duration can vary due to traffic, so we DO NOT recommend to book a tour on dates with other important appointments (flights, other tours etc).
4) Required for the insurance for ALL participants: full name, date of birth and passport numbers.
5) Payment options:
• total amount online (credit card or PayPal)
• total amount in CASH to the tour guide.
• deposit fee online (130BRL/person) + balance cash (150BRL/person) to the tour guide (if you choose private, 50% deposit)
6) Transport is included from designated hotels in the South Rio. Check the chart below with the complete list (if you're not in any of them, choose the closest option).
7) In case of RAIN and really BAD WEATHER, the tour can be rescheduled (according to yours and our availability). If we do not agree with a new date nothing will be charged.
[click for complete list of hotels/meeting points]
Some low impact walking 
(aprox. 10-15 min.) on paths on each stop (NO hiking in trails)
Regular / collective tour (maximum 6 people)
280BRL /person
| | | | | | |
| --- | --- | --- | --- | --- | --- |
| 650BRL | 850 | 1050 | 1200 | 1375 | 1500 |
[Questions? Click for FAQs and Cancellation Policy]
[when booking you agree with our terms of service]
Get a FREE e-guidebook of Rio
7-Day Itinerary for Rio de Janeiro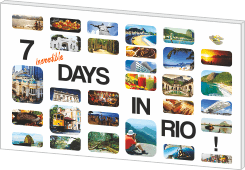 NOT SO SURE ABOUT THE TOUR ABOVE?
Check some other activities, easy or hard hikes, at Tijuca Forest.
Tijuca Forest 'Family Hike'
On this tour, you visit the Tijuca Forest to see waterfalls, the lush of the Atlantic rainforest and the most important attractions of the main sector such as the Taunay Waterfall, the Job de Alcântara bridge (dated from 1860), the Mayrink Chapel combined with an easy hike in the jungle, reaching Cascatinha Summit (525m). (read complete description) [INCLUDES]: transport + tour guide + insurance, swim in a river, Taunay Waterfall and 1 more summit. (read)
Hike:

EASY

(4,5km=2.8mi) / 2 to 3h / elev. gain 313m (1026ft)
Total duration: approx. 5h (half-day tour)
Regular/collective (max. 6 participants): 230BRL/person
Private: from 550BRL


Tijuca Forest Adventure Circuit
Hike in  Tijuca Forest National Park, one of the largest urban forests in the world. An off the beaten track circuit of trails to discover its nature and history. Visit peaks, ruins, caves and waterfalls, hiking in the deep jungle, over suspension bridges and streams, in a more hidden area of Tijuca National Park. Get ready to hike and adventure yourself! [INCLUDES]: transport + tour guide + insurance, waterfall shower, Taunay Waterfall. (read)
Hike:

HARD

(9km=5.6mi) / 4 to 5h / elev. gain 651m (2135ft)
Total duration: approx. 8 to 9h (full-day tour)
Regular collective (max. 6 participants): 280BRL/person
Private: from 650BRL