Hiking in Rio: a 'must do' activity!
Hiking in Rio can be one of the best experiences you can have. Visiting the Sugar Loaf mountain by cable-car can be easy, accessible to everyone, but the more adventurous can climb it. The same with Christ the Redeemer. What do you prefer? Train or trail? Hiking or by van?
Rio de Janeiro, Brazil. One of the top destinations for tourism in the world. What are tourists looking for when they visit Rio? In general, nature combined with warm weather, right? The experiences vary from easy to hard difficulty level, but nature and ecotourism are frequently in the field of interest. Beaches, rainforests, wildlife, mountains, landscapes, trekking, adventure and experiences that could be classified as ecotourism or adventure tours. So hiking in Rio.
And in Brazil, especially in Rio, the list of things to do get some additional items. For example, culture and historical attractions. Brazil has a unique mix of origins and roots. Indigenous, Africans, and Europeans. This mix is reflected in music, dancing, cooking, clothing and more. And that makes the trip to Rio even more interesting.
And what about hiking in Rio? It´s a must-do! Why? Well, 5 reasons are here….
1. Rio has 2 of the 3 biggest urban forests in the world.
Tijuca Rainforest or Tijuca National Park is the third biggest urban forest in the world and the first is Pedra Branca State Park, both inside the city limits of Rio. An urban rainforest means 'a green area surrounded by the city on all sides'. So you can leave your hotel in Copacabana area in the morning, get inside the jungle, hiking and experience nature and wildlife in a day trip, and be back to a hot shower a nice dinner and even go samba dancing in Lapa area after if you have energy.
Hike in Rio – Pedra Bonita ( by The Jungle Me Team)
2. Rio has a unique layout mixing mountains, beaches, rainforest and city.
Because of that, a view from the top it´s an outstanding way to understand, experience and enjoy the city. For example, the view from the Tijuca Mirim and Tijuca Peak /Pico da Tijuca (1021m=3349ft) (the first photo on this page) shows the North side of Rio and the Guanabara Bay, where most of the tourists don't go and sometimes leave without even knowing it exists. And there's only one way to get there….hiking.
Amazing hikes in Rio ( by The Jungle Me Team)
Here you can check some guided hiking tours in Rio that takes you to this stunning view of the Tijuca Forest, to a cave and after the hike you can shower in a waterfall.
3. The rainforests in Rio gives you the feeling of being 'in the jungle'.
Hiking in Rio gives you this feeling. Especially at Tijuca Rainforest, that has on its main sector a dense jungle, waterfalls, and animals like monkeys and sloths. So you don't need to go for an expensive and long trip to the Amazon just to get a feeling of a tropical rainforest.
4. These rainforest parks have a lot of culture, stories, and legends.
Because of the proximity to the city, Pedra Branca and Tijuca Rainforest Park, have a deep relationship with Rio since the beginning of time. Indigenous, slaves, farmers and the urban man nowadays have their role and interference in these areas. So when you go hiking in Rio, you can choose a trail originally made by indigenous, passing by a 200 years old coffee farm ruins and reach a community surrounded by a rainforest.
Discover the things the regular tourists don't know about.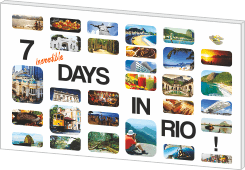 Make 7 days in Rio feel like 3 weeks.

- list of main attractions
- off the beaten track activities
5. The biggest attractions in Rio (Sugar Loaf and Christ Redeemer) have an 'eco-adventure hiking' version way to be visited.
When visiting Rio, Sugar Loaf and Christ Redeemer are on the list of 99% of tourists. Apart from the cable-car, trains, and vans, you can visit these 2 main attractions in Rio de Janeiro, hiking, climbing or with a variation of that, combining best of both worlds.
Now that you understand that hiking in Rio is a 'necessary' activity. You have to choose where and how. There are a few easy hikes you can do by yourself in Rio, like Morro da Urca/Sugar Loaf and Parque da Catacumba. But when going to Tijuca Rainforest or Pedra Branca, where the really good stuff is, you may need professional help and experienced tour guides.
These parks are in the city but not very easily accessed by public transportation, so it´s possible that a taxi to get there will be as an expensive as booking a guided hiking tour. In addition, you'll have the assistance and the knowledge of your tour guide, teaching you about plants, animals, history and more, and the chance to share this adventure with other open-minded travelers from different parts of the world.
Pedra Bonita summit ( by The Jungle Me Team)
WHERE TO GO HIKING IN RIO?
Some other known and popular trails and hiking spots in Rio are Tijuca Peak, Pedra Bonita (photo above), Pedra do Telégrafo, Pedra da Gávea, Parque da Catacumba, Trilha Dois Irmãos, Mirante Cascatinha (featured in our tour Tijuca Forest Family Hike). And around Rio, in the city of Teresópolis and Guapi-Mirim, it´s located the Serra dos Órgãos National Park, where it's possible to go on 1-day hikes or multi-day trekking.
Jungle Me it´s an expert in hiking tours in Rio, going to Tijuca Rainforest and other green areas of the city. Get your boots, discover our guided rainforests hikes in Rio and get jungled!
Get a FREE e-guidebook of Rio
7-Day Itinerary for Rio de Janeiro
A virtual tour in Rio de Janeiro visiting the main attractions and nature spots witih our tour guide narration. Created during the Covid-19 pandemic, this virtual tour made with Google Earth 3D images and photos it's a good way to visit Rio from home and also helps to plan your future trip.
Read More »