The Rio de Janeiro Itinerary
When planning a trip to Rio, you'll see that there's an endless list of things to do. So it´s hard to set up a Rio de Janeiro itinerary. The city is one of those magic places where you can do almost everything. Except skiing, Rio has beaches, mountains, rainforests, nightclubs, museums, samba (traditional local music), bike rides, hang glide, rock climbing, favelas local communities, typical food and, of course, the main attractions… Christ Redeemer, Sugar Loaf, Tijuca Forest, Selarón Steps and so on. Much different than planning a vacation for a resort where you sit on the beach with a drink or when you go skiing, when you don't need an itinerary.
Guanabara Bay and Sugarloaf ( by Agustin Diaz/Unsplash)
Usually, the tourists that visit Rio get to know maybe 6 or 7 of all the attractions or activities. The tourists who do a good research will reach 10, maybe 12 attractions. Guess what? There are more than 30 amazing things that you have to do in Rio! But to reach that you must plan an itinerary.
So, we gonna give you a little help. We'll break down the list of ALL these attractions and activities (more than 30) according to their profile: beach, nature/outdoors, culture, food/restaurant, bar/nightlife, active/sport, with an indication of the main attractions.
This is the' little'. And in the end, there's a big surprise, the 'BIG' help. Keep reading and…
...set up your Rio de Janeiro Itinerary!
Ipanema (main attraction)
Copacabana (main attraction)
Prainha and Grumari – more secluded beaches in the West Zone of Rio
Prainha, secluded beach in the West Zone of Rio ( by The Jungle Me Team)
Tijuca Forest Park – one of the biggest rainforests in the world, located in the heart of Rio (main attraction)
Botanical Gardens (main attraction)
Sugar Loaf – that famous mountain, with the famous cable-car. (main attraction)
Urca Hill (hike)
Sitio Roberto Burle Marx
Parque Lage
Lagoa Rodrigo de Freitas – a charming lagoon, placed between Christ Redeemer and Ipanema Beach.
Tijuca Forest National Park ( by The Jungle Me Team)
CULTURAL ATTRACTIONS IN RIO
Christ Redeemer – the biggest Jesus statue and art decó sculpture in the world. (main attraction)
Santa Teresa – the bohemian area, fancy-old style architecture, near Centro. (main attraction)
Favela – the slums. Some can be visited in a walking tour and with a local tour guide. (main attraction)
Historical Downtown Area – Arcos da Lapa, Selarón Steps, the Cathedral…more than 10 places that worths a visit. (main attraction)
Rio's Art Museum
Museum of Tomorrow – newest museum in Rio with an amazing architecture
Copacabana Fort Museum – built by Portuguese when Brazil was still a colony
Republic Museum – it was the presidential palace when Rio was still the capital
Olympic Boulevard – the graffiti art walls
Discover the things the regular tourists don't know about.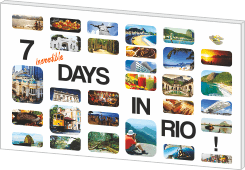 Make 7 days in Rio feel like 3 weeks.

- list of main attractions
- off the beaten track activities
Parque Lage ( by Alexandre Macieira/Riotur)
Churrasco – the Brazilian barbecue
Moqueca – the Brazilian seafood stew
Feijoada – the Brazilian porc and beans stew
Açaí – the smoothie made with the healthy amazonian berry
Feijoada, typical porc stew of Rio ( Pixabay)
Party at Lapa – many different samba clubs (main attraction)
Mureta da Urca
Bip-bip – traditional local samba bar
Live samba music at Rio Scenarium ( Rio Scenarium)
SPORTS AND ADVENTURE IN RIO
As you see there's a lot to do. Then you think it´s impossible to do it in 7 days, right? It may be if you don't have the righ information.
We are a group of locals, tour guides, and small tourist services and our goal is to have more visitors in Rio. With the good information we give, there will be more visitors in Rio, more word of mouth about our city, and then even more visitors will come. As a result, more tourists and as we work in restaurants, tourist attractions, and tour companies, there will be more business  and more work for us. Simple as that. No strings attached.
That's where … 
… the Rio de Janeiro Itinerary comes in.
So…we have organized all these attractions, in a 7 Day Itinerary in Rio, combining the activities by area, so you can jump from one to another and optimize your time. And don't worry, most of the activities are things you can do by yourself (we're not selling you anything). For some activities, the itinerary eventually suggests some services like where to rent a bike or how to get a forest expert guide for a hike, but it's all up to you. Like we said, no strings attached.
Our 7-Day Rio de Janeiro Itinerary will help to organize your schedule so you can finally fit in ALL the activities.
And in addition to the itinerary, there's a list of 100+ restaurants and bars in Rio that we consider 'good' for foreigners. And it´s not just the touristy places. It goes from the cheap clean regular meal to the top sophisticated restaurant for your special night. And also the 100+ bars and restaurants are organized by price, type, ambiance etc so you can plan according to the occasion.
The 7-Day Rio de Janeiro Itinerary it's in a PDF file (totally FREE).
Click here, get to the download page, and get prepared for an amazing trip to Rio.
Hiking in the atlantic rainforest inside Rio ( by The Jungle Me Team)
Get a FREE e-guidebook of Rio
7-Day Itinerary for Rio de Janeiro
A virtual tour in Rio de Janeiro visiting the main attractions and nature spots witih our tour guide narration. Created during the Covid-19 pandemic, this virtual tour made with Google Earth 3D images and photos it's a good way to visit Rio from home and also helps to plan your future trip.
Read More »