The Best Place to Stay in Rio
The Best Place to Stay in Rio de Janeiro is something that all the travelers want to know. Right from the start, in Rio the best place doesn't necessarily mean expensive. You can find cheap accommodation, like hostels or AirBnbs, in the best area to stay in Rio de Janeiro, and also 5 Star hotels.
Let´s take a deeper view and consider all the important issues in the point of view of a traveler:
safety
variety of prices (for accommodation and places around it – restaurants/bars, supermarkets, shops)
proximity to tourist attractions and experiences
It's a very big city.....
HOW TO FIND THE BEST AREA TO STAY IN RIO?
We'll start from the beginning and narrow down the list till' we find the best place to stay in Rio de Janeiro.
The 'accommodation area' in Rio, where most of the hotels, hostels and B&B's are located is West, South, and Downtown. A lot of new hotels were built in the West part of Rio (Barra da Tijuca and Recreio dos Bandeirantes) for the Olympics and you may find good deals there.
But don't go that fast. The good deal there may be more expensive in time and taxis, moving to where most of the attractions and things to do in Rio are. The Western part has amazing beaches like Barra, Recreio, Grumari and Prainha, the best surfing spot. But this place is about 20km (13 miles) away from Christ the Redeemer, for example. That can be a 90 min trip with traffic, round trip 3h. Unless you're on a surf trip or attending to a congress in that area, prefer the South or Downtown (or just 'Centro' as locals say).
Ipanema Beach ( by Alexandre Macieira/Riotur)
BEST PLACE IN RIO : CENTRO OR SOUTH?
....but South is a huge area.
So we have now Centro and South. Both places have attractions. Copacabana, Arpoador, Christ Redeemer, Sugar Loaf, Tijuca Forest (good to go hiking in Rio), Favelas and historical sites are around here. And honestly, they are not that far from each other. South has 2 additional advantages: closer to the beach and a more active nightlife, with restaurants and bars open every day. 'Centro' has almost nothing going on at night, except Lapa, the very specific tiny part of Centro where there's some good nightlife of Rio de Janeiro, but mostly on weekends.
So let´s focus on the South, which is not a very big area, but it has a lot of different neighborhoods. Some places are close to the beach and some are closer to 'Centro'. Not within a walking distance to the coast, we can list Gloria, Santa Teresa, Catete, Laranjeiras, and Botafogo which are an older part of Rio. Cheaper in the accommodation, close to the main attractions but away from the ocean. Santa Teresa gains extra points because it´s a picturesque bohemian place and it has amazing guesthouses and boutique hotels, so consider that if it fits your profile.
Get a FREE e-guidebook of Rio
... and discover how to save 350BRL in activities in Rio!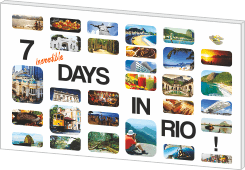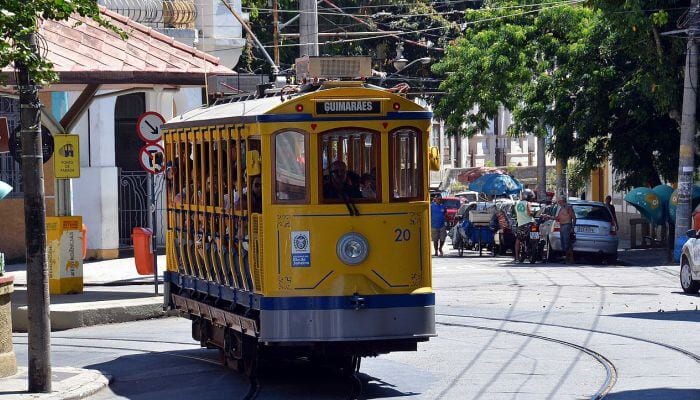 Santa Teresa Tram ( by Henrique Freire/GovRJ)
As we pointed the beach as an advantage, let´s stick with this coastline in the South. Now we have only 4 places to choose from and we'll have the best place to stay in Rio de Janeiro.
THE 4 NEIGHBORHOODS THAT ARE THE BEST PLACES TO STAY IN RIO DE JANEIRO:
Leme
Copacabana
Ipanema
Leblon
Leme – Wikimedia Commons ( by tommyk_421)
If you stay in any of these places it will be very nice. Good areas considering safety and distance to the main attractions. In all 4 you find a wide range of prices. From top class to cheap hotels and they all have metro stations close by. Leme is a small place, quieter and connected to Copacabana. Very nice but not fun or exciting.
Copacabana is bigger, more famous internationally and let's say, more confusing and noisy in some streets. But with MANY options for everything. Accommodation, restaurants, bars, shops with pricy and cheap deals. Moving forward, we have Ipanema and right after Leblon. They have the same 'sand stretch' but divided by a canal. Ipanema is more 'mixed', a bigger variety of places to stay and the beach is considered the 'cool' one to go. No, 'Copa', as the locals call it, is not the 'cool' spot since the 60's.
Leblon is the most expensive square meter in Brazil. Still, you can stay in hostels and apartments there with reasonable prices. Problem is that you won't find many options for bars, restaurants, supermarkets that will make happy different traveler profiles and budgets. The everyday life there is more expensive. And, Leblon is a bit more far from the attractions and City center, with fewer options for public transportation. From that list of 4, we'll keep Ipanema and Copacabana.
Finally, between these 2 we choose….
Discover the things the regular tourists don't know about.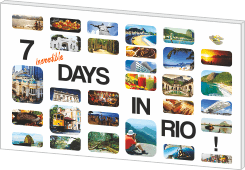 Copacabana and Ipanema limits – Wikimedia Commons ( by Gabriel Heusi/Brasil2016.gov.br)
...BOTH.... THE REAL BEST PLACE TO STAY IN RIO...
Remember that these 2 neighborhoods are connected. We recommend you to stay close to this limit in any of these neighborhoods. You'll have many options for hotels, hostels and B&B's. If you stay there, you can walk from Copacabana to Ipanema (or the other way around). Get the best of both worlds! 'Copa' will probably have the cheaper shops, restaurants, and accommodation. 'Ipa' will be more trendy, cool and a bit more expensive in supermarkets, shops etc. Take a look at the slideshow below and check the areas we highlighted in the maps. Considering a budget variety, safety and distance of the attractions, find the Best Place to Stay in Rio de Janeiro.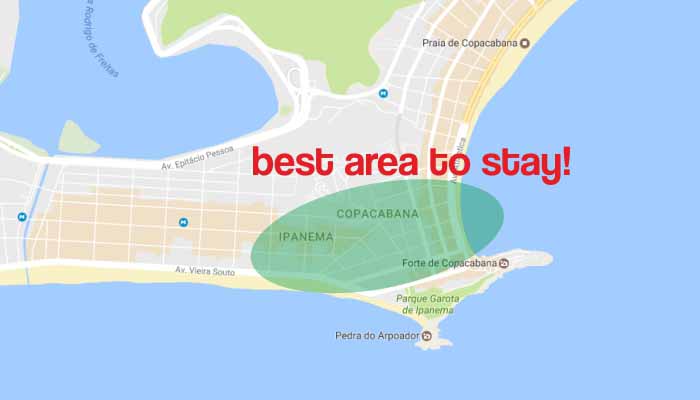 Map animation (by The Jungle Me Team)
Get a FREE e-guidebook of Rio
7-Day Itinerary for Rio de Janeiro
A virtual tour in Rio de Janeiro visiting the main attractions and nature spots witih our tour guide narration. Created during the Covid-19 pandemic, this virtual tour made with Google Earth 3D images and photos it's a good way to visit Rio from home and also helps to plan your future trip.
Read More »
Get a FREE e-guidebook of Rio
7-Day Itinerary for Rio de Janeiro