A trip to Rio de Janeiro! What comes to your mind? Beach, sun, Christ Redeemer, caipirinha, Carnival, Sugar Loaf, right? Yes. Those are the highlights, the mainstream that everybody talks about. And what about rainforests, waterfalls, monkeys, mountains, hiking, national parks, nature, wildlife? Does Rio come to your mind? Probably not. So, that´s exactly THE OTHER SIDE OF RIO! And it is INSIDE Rio!
DISCOVER THE OTHER SIDE OF RIO
Not too many people know, but Rio has 2 of the top 3 largest urban rainforests in the world. Tijuca Forest and Pedra Branca. Both are protected conservation areas organized as parks. And it´s possible to hike trails, climb mountains, shower in waterfalls, take a dip in a river, lay down at secluded beaches. And also explore caves, mountain bike, see some wildlife like monkeys, sloths and more ….
To make the long story short: in Rio, it´s possible to experience the lush of a tropical rainforest and nature in a completely unusual way for a big city. And this is what we call 'the other side of Rio'. For those thinking about going to the Amazon, but budget or time is a limitation, visiting the rainforests in Rio is a great Idea. Easy, accessible, cheap.
When we think about nature and tourism, it´s normal to think about flying to a big city and then drive for at list a few hours to finally get to nature. But in Rio this is different. All these eco-tourism attractions are INSIDE the city limits, about 30-50 min. drive from Copacabana, the more touristy part where we have 90% of the hotels and accommodation. Therefore, visiting the other side is certainly mandatory!
HOW TO VISIT THIS OTHER SIDE?
Jungle Me is a tour operator with more than 8 years of experience on eco-tourism and hiking tours in Rio, within the city limits. Running private or collective open tours, including transport door-to-door from the hotel, insurance, and bi-lingual (English/Spanish) tour guide, with special training for eco-tourism and adventure, Jungle Me conquered TripAdvisor's Certificate of Excellence for 7 years in a row and is now part of the Hall of Fame. Jungle Me is also a member of ATTA and ABETA (Brazilian Association of Adventure and Eco-Tourism) and also recommended by Lonely Planet, Dumont Guide, Visit.Rio among others.
In Rio, nature shouts on every corner. Beach, lagoons, rainforest and mountains. Also wildlife like monkeys, toucans, capybaras and caimans (yes, similar to a crocodile). Hiking these areas is probably the best way to understand the city. Part of the magic and the secret behind the dramatic landscape we have in Rio relies on how the urban part, the beach, and the rainforest are mixed and co-exist. On the map below, it´s possible to see the 2 rainforests and the city all around them. And the TIjuca Forest, for example, it´s just 30 min. far from Copacabana.
Get a FREE e-guidebook of Rio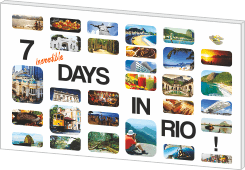 WHERE IS THE OTHER SIDE OF RIO
Adaptated from a Google Earth image
Just to mention a few amazing places that are possible to visit: Taquara Peak (814m, a 100m higher than Christ Redeemer). the Bat's Grotto (biggest gnaisse cave in Brazil), the Taunay Waterfall (highest waterfall at Tijuca Forest National Park) – all featured in our full-day Tijuca Forest tour, Grumari Beach (secluded beach on the West part of Rio) – featured in our Rio Eco City Tour, the Job de Alcântara Bridge (built in 1860 and now 'mixed' with the rainforest), Pedra Bonita summit – featured in our Tijuca Forest Express Hike tour, with an amazing view to the shore, the South part of Rio, and to Pedra da Gávea, the biggest monolith close to the ocean in the world.
On the slideshow below it´s possible to see pictures taken of or from these places.
Pictures on the 'other side of Rio'.
Get a FREE e-guidebook of Rio
7-Day Itinerary for Rio de Janeiro
Rio de Janeiro has many things to do but some of them are the 'must do', 'can't miss' type. Find out which and how to do them. Yes, you problably know about Christ Redeemer, Sugar Loaf and beaches, But… what else?
Read More »