Adventure & History
at Tijuca Forest
Discover the secrets of Rio's famous rainforest
Our tours
We only work with very SMALL GROUPS, with maximum 6 participants and our activities are mainly outdoors, with very low risk, even though we'll follow these practices to mitigate any chance of contagion.
Our team
You and other participants
Our vehicles
During the hike
'Clean & Safe' Labels
In this Tijuca Forest tour circuit, we'll visit a variety of attractions at Tijuca Forest National Park that are not well known so it has a more exclusive touch. In a walk of approximately 6 km, we'll hike along trails made in 19th century, when the area was occupied by coffee plantations and you'll discover and learn the history and curiosities about Tijuca National Park, the largest replanted urban forest in the world.
Along the circuit you'll visit Cascatinha Taunay (largest waterfall in the National Park), the Mayrink Chapel (built in 1850), the Cova da Onça Suspension Bridge, the Eucalyptus Forest (which houses an old slave cemetery) and the Bat's Grotto (Gruta dos Morcegos, largest gneiss cave in Brazil).
After the ascending hike, you'll  have the chance to cool off in a waterfall (Baronesa Cascade), and then start the journey back passing the former residence of Barão d'Escragnolle, one of the park's manager in the past, now The Esquilos Restaurant and also the Wallace Fountain, made in France in 1870, a gift from the English philanthropist Richard Wallace to Brazil with a sculpture representing Goodness, Charity, Sobriety and Simplicity.
This circuit combines adventure, history, nature, a waterfall shower, among other things, passing through somehow hidden spots and attractions that reveal the plurality and personality of Rio de Janeiro and its tropical rainforest.
1) Start time shown on the calendar below is an ESTIMATION. Pick up time depends on your meeting point. We'll email you on the night before (08:10pm) to inform exact pick-up time for your meeting point.
2) All participants must be aware and CAPABLE FIT to perform the hike  (6km = 3.7mi / approx 3h / elev.gain 354m = 1161ft)
3) Total duration can vary due to traffic, so we DO NOT recommend to book a tour on dates with other important appointments (flights, other tours etc).
4) Required for the insurance for ALL participants: full name, date of birth and passport numbers.
5) Payment options:
• total amount online (credit card or PayPal)
• total amount in CASH to the tour guide.
• deposit fee online (130BRL/person) + balance (cash) to the tour guide (if you choose private, 50% deposit)
6) Transport is included from designated hotels in the South Rio. Check the chart below with the complete list (if you're not in any of them, choose the closest option).
7) In case of RAIN and really BAD WEATHER, the tour can be rescheduled (according to yours and our availability). If we do not agree with a new date nothing will be charged.
[click for complete list of hotels pick-up/meeting points]
Requires some fitness. Hiking at Tijuca Park (about 3h) on a rising trail going up and down hill on rough terrain, inside the tropical rainforest. Age: recommended above 8 years old.
Regular / collective tour (maximum 6 people)
Adults (age 13+): 280BRL/person
Child (8 to 12) - 220BRL/person
| | | | | | |
| --- | --- | --- | --- | --- | --- |
| 700BRL | 900 | 1100 | 1400 | 1600 | 1800 |
[Questions? Click for FAQs and Cancellation Policy]
[when booking you agree with our terms of service]
Get a FREE e-guidebook of Rio
7-Day Itinerary for Rio de Janeiro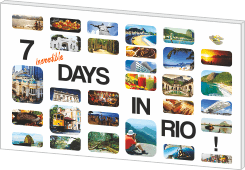 NOT SO SURE ABOUT THE TOUR ABOVE?
Check some other HARDER or EASIER options of eco-tours.


Tijuca Forest Adventure Circuit
Hike in  Tijuca Forest National Park, one of the largest urban forests in the world. An off the beaten track circuit of trails to discover its nature and history. Visit peaks, ruins, caves and waterfalls, hiking in the deep jungle, over suspension bridges and streams, in a more hidden area of Tijuca National Park. Get ready to hike and adventure yourself! [INCLUDES]: transport + tour guide + insurance, waterfall shower, Taunay Waterfall. (read)
Hike:

HARD

(9km=5.6mi) / 4 to 5h / elev. gain 651m (2135ft)
Total duration: approx. 8 to 9h (full-day tour)
Regular collective (max. 6 participants): from 280BRL/person
Private: from 780BRL

Rio Eco Secrets
('The Eco Citytour')
Visit 7 attractions in 4 different nature parks. Discover in 1 day all the beautiful nature and lush of Rio, visiting a diverse variety of ecosystems and amazing landscapes. Tropical rainforest, secluded beaches, mountains, waterfalls, the best viewpoints in Rio, lagoons and maybe some wildlife. [INCLUDES]: transport + tour guide + insurance (read more)
Eco-sightseeing:

VERY EASY

. The tour do NOT include hiking, only low impact short walks on each of the 7 attractions
Total duration: approx. 8h (full-day tour)
Regular/collective (max. 6 participants): from 280BRL/person
Private: from 780BRL